Watermelon Sweetheart Hybrid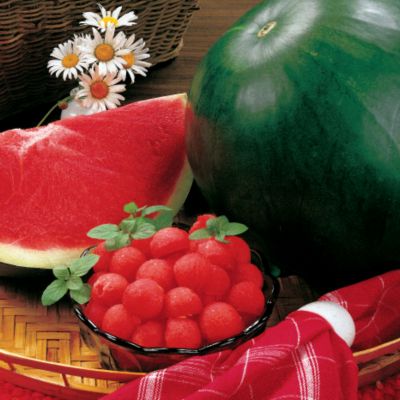 This Early Seedless has Solid Red Flesh - Firm, Crisp, and Sweet! Just the right size for the fridge, the 8 to 10-pound melons arise in abundance on vigorous vines! 85 days.
Sweet, firm red flesh is bursting with great taste and crisp texture.
These round, 8- to 9-inch-diameter melons are the ideal size for your icebox — about 8 to 10 pounds.
Early and high-yielding, the vigorous vines are trouble-free in the garden.We awarded SweetHeart Hybrid our Park High Performer seal of approval for ou
Radish 'Watermelon' available to buy from other retailers
Radish 'Watermelon' growing and care instructions
This 3 inch (7.5 cm), round Chinese radish is red on the inside and green/white on the outside, with a unique juicy sweet taste. It is for summer to fall sowing only and will bolt if sown in spring.
Popular products to buy from Park Seed
Details on how to buy online Watermelon Sweetheart Hybrid from Park Seed located in United States for 6.75 USD .