Tomato 'Pineapple'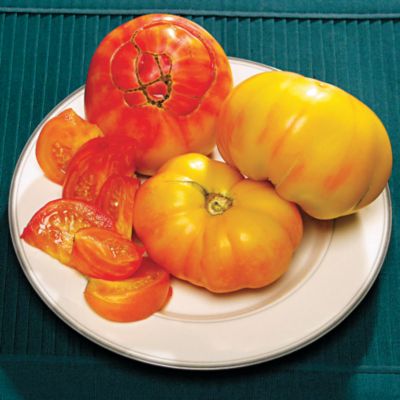 The Best-Tasting Heirloom Tomato! This beefsteak type tomato weighs up to 2 pounds.
This is the best-tasting heirloom Tomato our Director of Seeds has ever eaten! Pineapple is a beefsteak type with huge yellow-gold fruit often striped in red and boasting fewer seeds and more solids, for an extra bite or two in every Tomato.Very high-yielding, this colossal Tomato is as fascinating to look at as it is delicious to eat.
It has a strong Tomato aroma and fruity aftertaste, for a 'real tomato' exper
Tomato 'Pineapple' available to buy from other retailers
Tomato 'Pineapple' growing and care instructions
Red and yellow streaked bi-colour tomato, very meaty and relatively few seeds. Has a mild, yet very distinct old-time tomato flavour. Regular leafed plant. Fruit up to 16oz. <p> This variety needs to be staked or caged. It has a strong tomato aroma and a vining habit. Indeterminate.
Popular products to buy from Park Seed
Details on how to buy online Tomato Pineapple from Park Seed located in United States for 1.25 USD .