Hazel Borders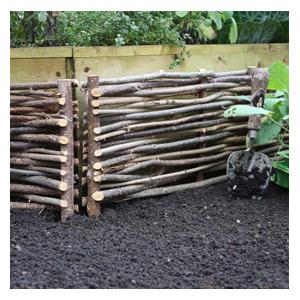 These Tough And Durable Hazel Borders Are The Ideal Way To Create That Traditional English Garden Look; Simply Introduce The Hazel Hurdle Edging Around Your Raised Beds Or Borders And Create A Sheltered Environment At The Same Time!hazel Wood Is Arguably The Strongest Material For These 9.5ins High Wooden Borders And Once In Place, Youll Find Them Far Superior To Cheaper, Spindly Imitations.
Long Lasting, Robust And Beautifully Made, Each Hazel Border Measures 1.2m Long And Stands 24cm High In The Ground, Secured With 24cm Deep Spikes.
The Hazel Bed Borders Are Also Easy And Quick To Install Or Take Down And Store For The Winter.hazel Borders Supplied As A Set Of 4each Border Measures 1.2m Long And 24cm High 24cm Deep Spikes Simply Push Into Ground To Secure Hazel Hurdleeasy To Install Or Take Downstore When Not Requiredtough Hazel Construction For A Long Garden Lifeideal For Lining Beds And Bordersuse To Disguise Raised Beds Or Fence Off An Area Of Gardenideal For Allotment And Kitchen Garden Usecreates A Barrier To Petshelps Prevent Hedgehog And Other Animals Disturbing Bedskeeps Balls And Other Garden Play Equipment And Toys Off Bordersprovides Immediate Visual Impact To The Garden
Hazel 'Contorta' available to buy from other retailers
Hazel 'Contorta' growing and care instructions
Harry Lauder's Walking Stick was discovered growing in an English hedgerow in the mid-1800s. This deciduous, twisted stemmed shrub usually grows to just 8-10'. The species is commonly grown commercially for nut production but this cultivar usually does not produce nuts. The light green leaves turn yellow in fall. The branch form becomes quite noticeable in winter after leaf drop and provides great winter interest. Twigs are used by florists in flower arrangements. Be sure to plant in a prominent location in the landscape where it can be enjoyed. [1]
Popular products to buy from Harrod Horticultural
Details on how to buy online Hazel Borders from Harrod Horticultural located in United Kingdom for 33.95 GBP .