Reblooming Bearded Iris 'Autumn Circus'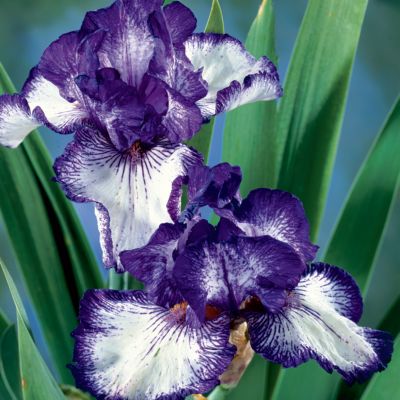 A reblooming delight every garden deserves, this exquisite Iris offers large flowers of white with vibrant blue-purple edges and freckles.
Delightfully ruffled, it is a fine cut-flower, and makes a dramatic statement in the garden.Growing 34 inches high and spreading about 18 to 24 inches wide, this is both an early and late blooming Bearded Iris.
The first show is in late spring in most climates, while the encore doesn't come until autumn.
A nice "bookend" effect for Iris season!Tolerant of col
Bearded iris 'Autumn Circus' growing and care instructions
Gorgeous ruffles on dramatically flared blooms. Clear white petals are overlaid with distinctive violet-blue markings. Blooms in spring and again in the fall if the conditions are right. Rebloomer. 32-34" high with an 18-24" spread. Very easy to grow!
Popular products to buy from Park Seed
Details on how to buy online Reblooming Bearded Iris Autumn Circus from Park Seed located in United States for 7.95 USD .