Impatiens Accent Hybrid Mix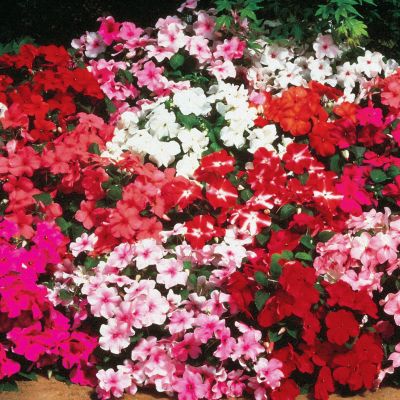 Neat 10-inch plants are covered in blooms all season.
Plant all the glorious Accents you love without spending a fortune on seed packets! This mix gives you both the handsome traditional and snazzy uncommon shades, including a Star variety or two! You'll get red, white, pink, salmon, orange, and violet, some with prominent eyes, others nearly solid, for a riot of long-lasting color for any shady garden spot or container!Accent combines all the good qualities you expect from Impatiens: it's stro
Busy lizzy 'Fiesta Purple Double Impatiens' available to buy from other retailers
Buy now

7.99

GBP

5 plug plants

(1.60 per plug plant)

greenfingers.com

/Garden Plants/Plants by Name/Impatiens

These Impatiens or Busy Lizzies are bold and simply gorgeous in colour! These are the perfect plants for border planting or alternatively the striking red pink and white fl...

Buy now

2.19

GBP

80 seeds

(0.03 per seed)

Gardencentre.co.uk

Garden Centre > Flower Seeds > Aqu - Bus

A neat, compact plant you can either grow as a summer annual or a pot plant. It has a wide, bright colour range and is ideal for bedding, hanging baskets, tubs etc. Flowers...

Buy now

4.95

USD

Park Seed

Park Seed

Covers Ground Beautifully with Rosebud Blooms 6 Bright Colors Simply the best fancy-flowered Impatiens we have ever grown, Athena covers the shade garden or container quick...

Buy now

17.95

GBP

100 plants

(0.18 per plant)

Blooming Direct

Garden Plants > Spring Plug Plants

Busy Lizzie's are such a versatile and easy to grow plant that it is no wonder that they have become a firm favourite in our gardens, patios and planting areas nation...
Busy lizzy 'Fiesta Purple Double Impatiens' growing and care instructions
Popular products to buy from Park Seed
Details on how to buy online Impatiens Accent Hybrid Mix from Park Seed located in United States for 2.50 USD .